Avenging Amy
22nd August 2018
Sauboires, Midi-Pyrenees, France
Phew what a scorcher - as the Sun headlines used to shout if the temperature at Wapping ever went over 25 degrees. Its 35 as I type this but its humid today and so feels much hotter.
Last time I looked I noticed the weather was forecast to cool right down to low 20s tomorrow and Friday with showers of rain possible. I can take or leave the showers of rain but a couple of cooler days would be welcome. It wouldn't be so bad if the temps plummeted when the sun goes down but they don't - it was still 17 degrees at daybreak today.
I shouldn't grumble really but this is more like Iberian summer heat we are currently experiencing. However, we are not too far away from the Pyrenees mountains now and possibly a bit of altitude would lower the mercury a tad?!
A very decent, if somewhat warm, night at Pompagne followed by a good long walk for Amy through forest and heath at daybreak.No visitors of any kind last night, real or dreamt!
Another sunny morning, but not long on the road towards Gabarret we ran into quite an extensive area of fog, occasionally really quite dense. Still very warm though and it felt a bit like being in a drive-thru Turkish baths!
Found a well appointed small Super U store at Gabarret where the produce and service were both first class, if a little pricey. No competition for many kms so I guess they can pretty much charge what they like.
And so they do, apparently!
From Gabarret we we only a few km from Parleboscq, my main destination goal for today. I have to say I was very glad of google maps (when it eventually kicked-in via a terrible mobile internet connection) as I would never have found Chateau de Lacaze without it.
It's 40 years since I was last there and all I could remember about it''s location was that its a ways out of the actual village and down a longish drive.
Eventually, I passed what was once the lavishly gated entrance almost without realising it was there as it has become somewhat overgrown and derelict through lack of use. Based on an internet search I carried out a while ago I was expecting the place to be all new money and venal vulgarity but not a bit of it.
The chateau's extensive hectares of vines were all immaculate and heavily hung with fruit but the 'main drive' was surprisingly lumpy-bumpy and the adjacent grass in the 'parkland' has not seen the scythe anytime recently.
The chateau eventually loomed out of the rampant undergrowth round a bend in the drive to reveal an edifice, well, exactly as I remember it actually! ie very 13th century and unspoilt.
Still really very wonderful!
That said, you will see from the pics, below, that the oldest part of the chateau has had a much more recent flat roof extension added to it, although what 'recent' means I wouldn't like to guess - sometime in the reign of one of the many Louis for sure!
I think where my confused idea of what I might find comes from is that the place has certainly had some attention since I was last there. The roof appears to be in better order for a start and there are the additions of a swimming pool (full of brackish looking water), tennis courts and some sympathetically added single storey building in the grounds.
Presumably, an owner after the days of M Siddiqui bought the place and renovated it and it was post those renovations that the google satellite flew overhead, photographed it and published the unsolicited result on the interweb.
It's quite and edifice though and I am willing to bet that however wealthy the renovating owner was that the chateau ate all his or her money, belched loudly and then demanded more. It's just that kind of an insatiably hungry old building.
Standing outside it today, it pleased me to recall that my future wife of the day and I used to occupy a suite of rooms accessed from somewhere in the upper reaches of the side tower - that being the one with a single door and square lintel over. I think we were on the third floor from the top - the top two floors being uninhabitable due to the badly leaking roof - but how many floors that was from the ground I don't recall. I do remember there were a helluva lot of very worn old and steep stone spiral steps, swarming with geckos, to climb each and every time one wanted simply to go 'indoors'!
Our rooms were essentially unfurnished but the chateau was literally strewn with abandoned (what would certainly be today) priceless antique household accoutrements and we were told to just go about and gather up anything we needed - like King Louis' huge bed and matching wardrobe, etc! I don't recall how our kitchen was appointed but I do remember it certainly wasn't full of Smeg appliances. I also now recall the bathroom was quite some distance from our rooms and was vast - a bit like the Roman pumphouse at Bath, except the pump was rather tired and breathless!
The place, today, was utterly deserted, nobody lives there at the moment that's for sure - or has done so in quite a while. Amy loved it in the adjacent moat (dry) and overgrown park and it was tempting to stay there until tomorrow. However, all the surrounding farmland is visibly meticulously and diligently worked and I don't imagine whoever owns it all these days would be too happy to find Amy and I squatting on his/her doorstep even if it would only be for one night and so we eventually came away.
Probably a good decision as, literally, just down the road we drove into another sizeable hunt, from which I conclude its already open season for hunting in the Armanagc area of France!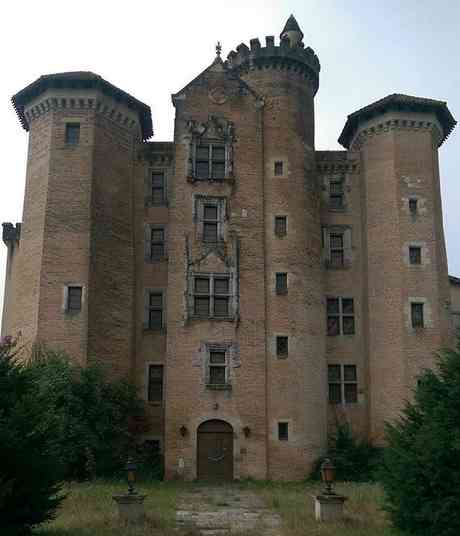 We drove slowly south for about an hour down D roads and roads with no designation at all and we are now well away from the huge forests that spiral out south and east from Bordeaux and back into that seemingly endless supply of rural France that reminds me of an extended suburbia with extra land between the houses.
Its all pretty hopeless wild camping territory as the verges are too narrow to pull over on (French ditches are steep, deep and lethal!) and there is always a habitation of some sort down a drive just round the next bend.
Just about spot-on lunchtime we came across the tiny and eerily quiet village of Sauboires - which reminds me of a certain 1960s Avengers episode set in the Cotswolds where the residents collude to bump off any visiting strangers, only without a young Diana Rigg in her tight fitting leather pants and Lotus Elan sports car to whisk me away to safety!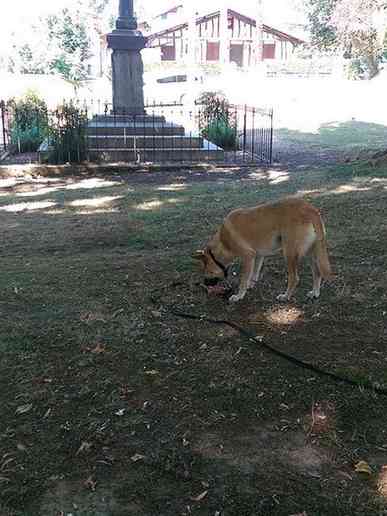 Luckily, I have Amy instead and we couldn't help but notice a very attractive and well shaded public rest area next to a venerable old RC church and we are spending the afternoon here. Although, if I do need to rely on Amy for moral support it will have to wait until she has finished her lunch, she tells me!
We had a little walkabout when we first arrived and I am thinking if I move to the side of the church, later this evening, we could almost certainly get away with an undisturbed and un-overlooked overnight stay here. There are for's and against's for such a notion but one of the big for's is that we will not encounter any hunters with a good few slugs of Pastiche in their bellies and loaded guns in their fists at either dusk or dawn as we may well might in a local field or forest.
so, if Amy and I should vanish without trace tonight, never to be seen or heard of again, as per the Avengers reference I alluded to a couple of paragraphs ago here is where the rescue party should start looking:
Google Maps
Latitude : 43.83348 (43° 50′ 0.54″ N)
Longitude : 0.0304 (0° 1′ 49.42″ E)
accuracy of signal : 5 m