A whisper from the wolves?
1st August 2018
Honfleur, Normandy, France
Last night's location, just on the northern edge of Le Harvre, turned out to be much better than expected. The oddball fraternity that invariably frequent those sort of places from the early evening onwards stopped calling by at about 7pm and from then the place stayed, to my utter astonishment, totally deserted all night. Being a cull de sac there was no traffic noise and from our high vantage point a magnificent sunset over the sea made for a very pleasant end to the day. The view out to sea was also pretty good after dark with many fishing boats and larger vessels working the approaches to the harbour.
There was a strange incident in the middle of the night thought. I woke up to a load crackling sound and discovered one of the two carpark litter bins, actually 200 litre oil drums open at one end, was ablaze and I mean ABLAZE! At first I thought somebody must have tossed a fag end into the bin, earlier and finally the trash had ignited, but then I came to realise it was much too big a fire to be just a bit of trash burning. That was conclusively confirmed when it was still going strong a couple of hours later. The wind was blowing away from us so I got no clue as to what was burning but it occurred to me this morning as I tried to decide what had been feeding the flames (no clues though) that perhaps it was a signal/beacon to boat out to see, smugglers even, maybe?!
An OK morning walk for Amy by virtue of the fact I took advantage of the early hour to hot foot it round some agricultural land, pasture and stubble and Amy subsequently enjoyed what seems to have become her daily lapan chase!
Had a few chores to do today, notably find a launderette, cash machine and fuel station of which InterMarche generally has all three. Found an IM nearby but its outdoor Lavamat, unusually, did not take plastic and I didn't have the required four euros in change. That in itself was no problem s there is another IM at Honfleur but to get onto the Pont de Normandie motorway from where I was involved a hideous rush hour (at 07:30!) crawl through roadworks where several motorways converge. Just awful!
The next shock was the toll for the bridge. I'd somehow got it into my head there was no toll payable, but possibly that is only when travelling in a northerly direction. Anywho, it was a shocking 5 euros 40 cents and the automatic machine wouldn't take my plastic. I found a booth with a lady operator in it and her inside machine wouldn't take my plastic either. After a lot of huffing and puffing and exasperation from her that I didn't have the toll in cash either she finally and rather reluctantly I though, produced yet another card reader from a drawer somewhere and that did accept my card, albeit taking three eternities to get approved.
Into Honfleur, pretty place and quiet at that time of day but even so the cobbled little streets I was obliged to travel to get to where I wanted to go were clogged with lorries, parked and unhurriedly offloading to cafes and bars. Finally we emerged onto the coast road, via the aforementioned IM, in the direction of Deauville and soon found a quite decent bit of shore at the end of a no through road. Ideal, as it was deserted and there was a substantial section of wide beach to let Amy run on. As the morning rolled on a few people started to turn up so we headed back up the approach road a short distance to a deserted nice leafy green lane where we eventually had our lunch and post lunch snooze.
Rashly, I decided to push off after the snooze further down the coast and see if we couldn't find some really pristine sand as where we were, although perfectly decent was a bit estuaryish. Well we certainly found the sand just a few km down the road at Deauville and beyond, km after km of it. Continuous and every last square metre of it occupied by at least one human! To say it was busy doesn't even begin to describe it. By Villers sur Mer I couldn't take any more and decided our only hope was to head inland to try and find a bit of rural France that doesn't appeal to the masses. Using a combination of secondary roads and country lanes we dropped due south several km and finally stopped in the tiny church carpark at the hamlet of Cressevuille more out of exasperation than any other reason as we had found absolutely nowhere we could reasonably pull over and stop. Purely by chance, directly in front of me on the opposite side of the road was a footpath sign welcoming Amy and I to The path of The Vale of Wolves. Fanciful, I know, daft even, but it felt as if my old half-wolf travelling companions were trying to cheer me up from wherever it is they may currently be!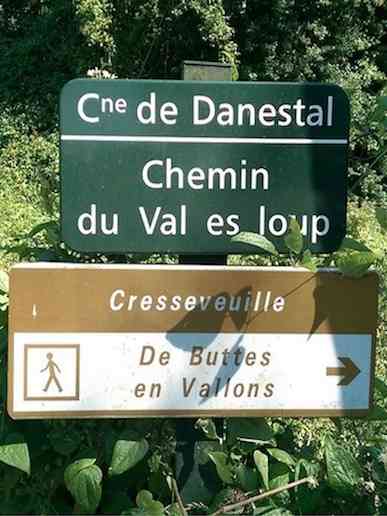 Anywho, it was a lovely walk along a leafy track littered with many ancient old timber frame barns, some still with ancient liquor barrels inside. Unfortunately though, nowhere we could realistically pitch up for an overnight stay nor, indeed, anywhere else nearby. Although everywhere superficially looked very rural there was actually a well-heeled dwelling of one sort or another every few hundred metres, whichever lane we took.
As the afternoon was getting on I reluctantly decided to abandon my inland search for today and to head back to the beach on the estuary where we started from earlier as at least I knew we could overnight there. I didn't think we had travelled that far but it took nearly an hour of main road driving to get back there, partly due to holiday traffic but mostly because we had bimbled along for a lot further than I had realised.
It's odd how much ground one covers when not in a hurry and how long it takes to get anywhere when one is!
Tonight's location is, fingers crossed:
Google Maps
Latitude : 49.40623 (49° 24′ 22.44″ N)
Longitude : 0.15917 (0° 9′ 33″ E)
accuracy of signal : 3 m